NEWS & REVIEWS
THE PERFECT (UNDISCOVERED) HUNTER VALLEY ROAD TRIP ROUTE
Australian Traveller: Kristie Lau-Adams October 2023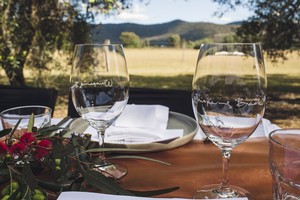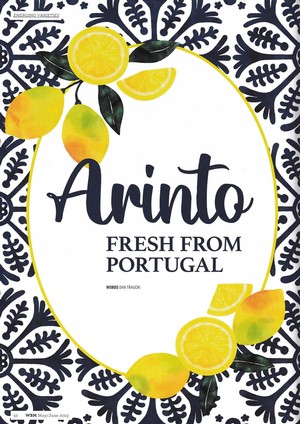 This 5-star beauty is one of the best boutique wineries in the Hunter Valley.
The people behind Whispering Brook are all about family, sustainability, quality, innovation, and passion — values you can taste with every sip.
Located in the Broke area, Whispering Brook is a scenic wonder. The Wollombi Brook borders one end of the property, hence the name. The winery is also surrounded by Yengo National Park, The Wollemi National Park, and the Brokenback Ranges.
Make the trip out and enjoy wine tasting, cellar door tours, and outdoor dining.
FLOOD OF VISITORS WELCOME - BROKE'S BUOYANT PRODUCERS SET THE TABLE
Excerpt from Newcastle Herald
Wine and food lovers now have the opportunity to reward the heroics of the hospitality businesses of the flood-ravaged Broke-Ford-wich area.
The vineyards, wineries, cellar doors, and tourist stay operators are largely back in business and having fought back against the deluge, they now need a flood of visitors.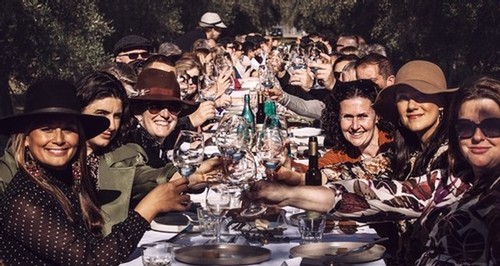 Details of the area's wine producers can be found on brokefordwichwinetrail.com.au.
Broke folk have shown remarkable resilience-typified by husband and wife winemaking team Susan Frazier and Adam Bell at their 712 Wollombi Road, Broke, Whispering Brook vineyard.
The vines were above the Broke flooding, but the property was cut off for three days and lost power and water supply. Roads and fences were damaged, the cellar door was closed, and the guest house bookings were refunded.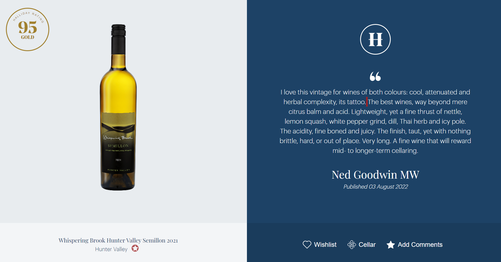 10 THINGS TO PLAN FOR WHEN YOU VISIT THE HUNTER VALLEY
Excerpt from Mr & Mrs Romance award-winning travel and lifestyle blog
With so much to see, do, eat and drink in Australia's oldest wine region, it's hard to know where to begin. So here are 10 of our favourites you should definitely keep in mind when you're visiting the Hunter Valley.
Olive Long Table Luncheon at Whispering Brook Winery –
Set amidst the alleys of olive trees, the Olive Long Table Luncheon at Whispering Brook is truly one of the most memorable things you can do in the Hunter. This lunch is a special event that's become a pillar of the Hunter Valley Wine and Food Festival each June.
However, during the rest of the year, Whispering Brook is a slice of tranquility away from the crowds where you can sample elegant Portuguese varietals and sumptuous olive oil pressed from fruit of the winery's orchard. It's also worth taking a wander through the olive groves for that extra bit of European romance.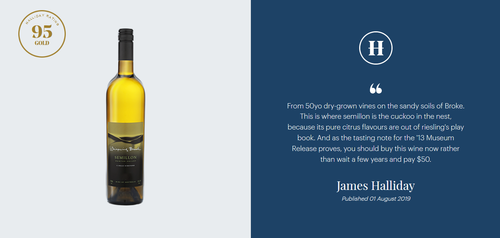 MUST-SEE WINERIES FOR YOUR NEXT ADVENTURE
Halliday review - Whispering Brook
Whispering Brook
It took some time for partners Susan Frazier and Adam Bell to find the property on which they established their vineyard over 20 years ago. It has a combination of terra rossa loam soils on which the reds are planted, and sandy flats for the white grapes. A trip to Portugal in 2007 inspired the planting of Portuguese varieties, including touriga and arinto, alongside Hunter staples, shiraz and semillon.
The partners have also established an olive grove and accommodation for up to 18 guests in the large house set in the vineyard, offering vineyard and winery tours. Read full profile
Excerpt from Halliday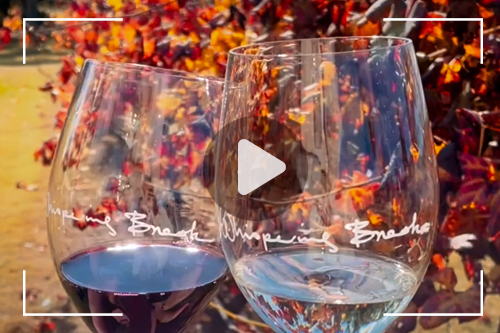 LONG TABLE LUNCH OF OUR DREAMS
Excerpt from Mr & Mrs Romance award-winning travel and lifestyle blog
Food, wine, music and olive groves all set to a banquet table between the trees. It's as European as fast driving and slow soccer, but with the finesse of a top Hunter Valley winery and the spirit of a festival. This is the Continent on our shores.
Whispering Brook – the sobriquet of the quiet waterway that runs round the estate – is one of those rare places that blends culture and nuance so cleverly it's easy to forget exactly where you are.
2021 HUNTER VALLEY WINE & FOOD FESTIVAL BRINGS MUCH TO THE TABLE
Excerpt from NewcastleHerald.com.au
TASTINGS of 2014 vintage Penfolds Grange alongside same-vintage top Hunter reds, a Mediterranean-style lunch among Broke vines and olive groves and a cook-off competition pitting two Hunter chefs against Sydney top-notchers. They are just part of the month-long 2021 Hunter Valley Wine and Food Festival during June, which features more than 30 daily and weekly events offered by Pepper Tree, Tintilla, Winmark, Hungerford Hill, Wandin Estate, Andrew Thomas, Tulloch, Scarborough, First Creek, Bimbadgen and Tinonee. Events include gourmet lunches and winery dinners, wine blending and cellaring masterclasses, wine and food pairings and cooking classes.
Whispering Brook Olive Long Table Lunch: $189 a person at Rodd Street, Broke, from noon to 4pm on Saturday, June 5. After a walking tour of the Whispering Brook vineyard and olive groves, followed by an al fresco four-course lunch provided by chef Frank Fawkner of EXP Restaurant matched with estate wines, live music and a presentation by guest speaker Patrice Newell.
THE HUNTER VALLEY'S MONTH-LONG WINE & FOOD FESTIVAL RETURNS THIS JUNE
Excerpt from HunterHunter.com.au
The Hunter Valley Wine & Food Festival is back in 2021 with the month-long festival offering up some definite palate pleasers.
We're thrilled to be able to bring our signature festival to life again this year after a challenging 2020. Our reputation as a producer of award-winning wines and home to hatted restaurants is at an all time high, so we can't wait to be able to offer consumers the opportunity to experience some of these great wine and food offerings first-hand." Christina Tulloch, President Hunter Valley Wine & Tourism Association.
2021 Hunter Valley Wine & Food Festival - Program Highlights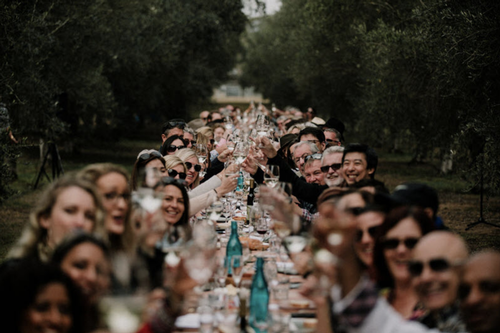 Whispering Brook Olive Long Table Luncheon
Enjoy an alfresco Mediterranean-inspired lunch amongst this Broke Fordwich estate's olive groves with spectacular views after a walking tour of the Whispering Brook vineyard and olive groves. Indulge in the four-course menu designed by Chef Frank Fawkner of EXP matched with single-vineyard estate wines, live music, and a special presentation by guest speaker Dr Patrice Newell.
When: Saturday 5 June 12-4pm
Where: Whispering Brook
15 INCREDIBLE THINGS TO DO IN THE HUNTER VALLEY INCLUDING LOTS OF HIDDEN GEMS
Excerpt from Walk My World 7 October 2020
The Hunter Valley is one of Sydney's most popular weekend destinations for good reason. The scenery is stunning and the food and wine are fantastic. However, there's much more to do in the area beyond the famous wineries of Pokolbin, from ancient rock art to cheese tasting and even a historic village which feels like stepping back in time.
We've visited many times and have found something new and incredible each time. As well as the famous hot spots we'll share all our favourite hidden gems to help you plan the perfect trip to the glorious Hunter Valley.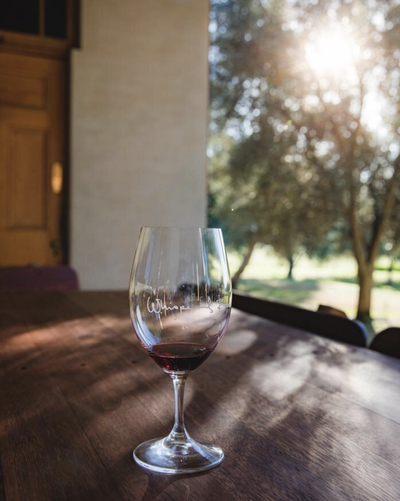 Learn about wine making
at Whispering Brook
There are hundreds of wineries in the Hunter Valley, and whilst almost every winery offers tastings, fewer offer you the opportunity to explore the vineyard and learn more about the wine making process.
We took a tour at one of our favourite wineries in the Hunter, Whispering Brook, which is a 20 minute drive from Pokolbin. If you're tastings have been lacking that personal touch, then this is the place to come. It's a small boutique winery with outstanding, friendly service that makes you feel right at home.
It was a place that truly felt like an escape and we left with a big smile on our faces.
You'll be shown the vineyard and olive grove before being taken into the wine making area to learn all about what it takes to produce wine from start to finish. You can ask as many questions as you like and it was great to learn more about the area and the wines. We were the only ones on the tour when we visited, which made it feel even more personalised.

GO FOR BROKE
Excerpt from Weekend Australian
Nearby Whispering Brook feels like a tucked-away treasure but it's certainly on the connoisseurs' radar, having been awarded the maximum five red stars in the Halliday Wine Companion.
The winery and cellar door are housed in a long, low farmhouse-style building; convivial tastings take place on the covered verandah. Winemaker Susan Frazier and her husband Adam Bell also have an 18-bed holiday rental on site and offer Beyond the Cellar Door walking tours of its olive groves bordered with lavender and daisies and rows of vines.
View article
Published by Weekend Australian Magazine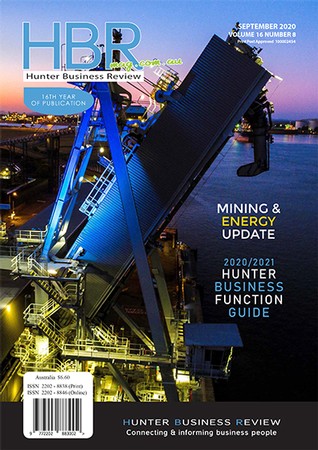 HUNTER REGION WINERY AWARDED FIVE RED STARS
in the 2021 Halliday Wine Companion Awards
Broke based winery Whispering Brook has been awarded Five Red Stars at the 2021 Halliday Wine Companion awards ceremony. Recognising the outstanding winery for regularly producing wines of exemplary quality and typicity.
The Five Red Stars were given based on more than two wines achieving a score of 95 points and being a five star winery for two years in a row. Whispering Brook's 2014 Shiraz, 2018 Shiraz and 2019 Semillon all achieved more than 95 points, and in previous years a rating of 97 points was given to the 2017 single vineyard shiraz, and 96 points given to the 2017 Semillon. "To be awarded 5 Red Stars is a particularly great accomplishment for a small, artisan family winery," said winemaker, Susan Frazier. "We grow our own grapes, carefully and lovingly, in tiny quantities, which unlike larger wineries, means we have only one shot each year at making each of our varietals. A focus on uncompromising quality has resulted in success." This year, we have more reason than ever to celebrate the award," explained Susan.
We have been impacted by the drought, badly affected by bushfires, and are now working through the turmoil of covid 19. However our love of the land and passion for winemaking have truly paid off with this milestone." It has been a 20-year journey for the Whispering Brook winery to achieve a 5 Red Stars rating. Husband and wife winemaking team, Susan Frazier and Adam Bell, first established the winery in 2000. Since then, they have completed 20 vintages overseas and at their Hunter Valley winery and cellar door.
Published by Hunter Business Review
WHISPERING BROOK - TOURIGA NACIONAL 2019
Whispering Brook is an excellent Hunter Valley winery gaining lots of attention for its quality wine. Susan Frazier and Adam Bell are its winemakers and established the winery in 2000. I say all of this as I think you should put these names squarely on your wine watch list as this is one cracking good red wine!
Touriga Nacional is one of Portugal's finest red grape varietals and is used extensively in making Port.
Reviewed by Paul Ippolito, Wine Writer
TOP RED SELECTIONS
21yo vines growing in red volcanic clay loam soils. Aged for 17 months in French barriques, hogsheads (30% new), and a puncheon. There's a sense of polish and precision about this wine; Hunter shiraz with regional and varietal identity, but a touch of gloss as well. Medium weight, ripe red fruit, earth, spice and balanced astringency are the key ingredients.
Reviewed by Steven Creber

GOURMET GETAWAYS
Want to wake up in wine country? Here's our pick of the places to visit.
... Hunter Valley, NSW
Wine and food go hand in hand as tourist drawcards but now there's a third element we expect in our wine regions: dedicated cycle paths. While not as long as the cycling trails in the Barossa or Clare Valleys, the 10km Hermitage Road bike path links more than a dozen Hunter Valley wineries and there are plenty of options to extend the ride on quiet vine-lined country lanes.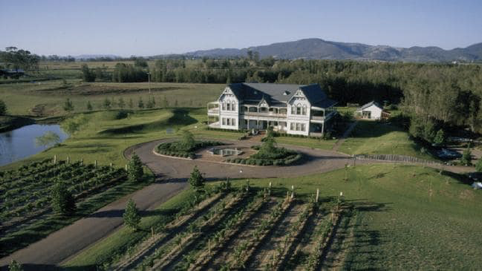 Collapse at the end of the day in a range of accommodation options, from the luxury Spicers Guesthouse with its 49 well appointed guest rooms on a large estate, to the stately The Convent at Pokolbin (pictured above), which has recently refurbished its 19 guestrooms. Ironbark Hill Estate has a range of villas and a four-bedroom house on Peter Drayton's vineyard. Top off your stay with a meal at Margan Restaurant or Muse Kitchen, leaving space for a visit to Cocoa Nib.
The Hunter, two hours' drive north of Sydney, is Australia's oldest wine region and is known for its semillon, shiraz and chardonnay.
Our ideal tasting stops would be Whispering Brook, Brokenwood, Mount Pleasant and Pepper Tree – with 150 wineries to choose from, you'll soon build your own list. huntervalleyvisitorcentre.com.au
Published by The Weekend Australian Magazine | The Australian

Contributors: Graham Erbacher, Kendall Hill, Penny Hunter, Susan Kurosawa, Christine McCabe, Christine Middap, Libby Moffett, Lee Mylne, Cathy Osmond
Photography: James Rutherglen; Aerial NSW; AAP; Hannah Puechmarin
A twenty-year journey to Five Red Stars
It's been a 20-year journey for Whispering Brook winery to achieve a 5 Red Stars rating from the Halliday Wine Companion, but we did it, and we're proud to share the news.
The James Halliday Wine Companion is Australia's most comprehensive resource for wines, and James Halliday the country's most respected wine authority. His annual awards are awaited with excitement by the industry and wine lovers alike. To be awarded 5 Red Stars is a distinguished accomplishment. The Halliday Wine Companion describes a 5 Red Stars winery as an 'Outstanding winery regularly producing wines of exemplary quality and typicity. Will have at least two wines rated at 95 points or above, and had a five-star rating for the previous two years.' Of more than 3,000 wineries across Australia, only about 12% earn a 5 Red Star rating.
It's a particularly great accomplishment for a small, artisan family winery. Unlike larger wineries, we have only one shot each year at making each of our varietals – Shiraz, Semillon, Chardonnay, Merlot and Touriga Nacional – because we grow our own grapes, carefully and lovingly, in tiny quantities. A focus on uncompromising quality has resulted in success: last year's milestone was a rating of 97 points for our 2017 single vineyard shiraz (our 2017 Semillon was awarded 96 points).
"It's been a difficult year for so many of us," Susan explained. "We were badly affected by the bushfires. And now, there's COVID-19 ... so this is something to celebrate. Our love of the land and passion for winemaking have paid off with this milestone."
Whispering Brook's husband and wife winemaking team, Susan Frazier and Adam Bell, established Whispering Brook in 2000. They've completed over 20 vintages overseas and at their Hunter Valley winery and cellar door. They've brought their passion for Portuguese grape varietals to the Hunter Valley, winning numerous trophies for their Touriga Nacional and being the first winery in the Hunter Valley to grow and make a 100% Touriga Nacional.
Whispering Brook offers a picturesque cellar door and an 18-bed guesthouse. Visitors can experience walking tours to gain a deeper understanding of the viticultural and winemaking process and taste some of the Hunter's best olive oils and olives, straight from the Whispering Brook olive groves. Visit our website at www.whispering-brook.com to learn more, plan your visit, purchase our products, and read about special events like our annual Whispering Brook Olive Long Table Luncheon, usually held during Wine and Food month in May or June. Cellar door opening times are Friday to Sunday, 10:30am to 5pm.
Published by Wine Country

A weekend in Broke, Hunter Valley - a pet friendly getaway
Located in the Hunter Valley, one of Australia's oldest wine making regions, Broke is home to some amazing boutique wineries, fine dining experiences, World Heritage listed wilderness, rock art and it's very dog friendly to boot!
We've visited the Hunter countless times over the years and when I say the Hunter, I mean Pokolbin where you'll find lots of dog friendly cellar doors.
However, the village of Broke with it's warm welcome, stunning scenery and relaxed, rural vibe is a refreshing change from the hustle and bustle of Pokolbin yet it's just a 20 minute drive from the Hunter Valley Gardens, cheese shops, concert venues and other wineries.
Where we visited - Whispering Brook Winery
This 5 star James Halliday rated winery is the real deal and as well as the cellar door, there is a guesthouse, olives and a variety of wine themed experiences. The emphasis here is on quality and sustainability and the production of artisan wines. It's peaceful, picturesque and it's personal. Their delicious reds are produced right here on the property while the sandy soils near Wollomi Brook are where the grapes are sourced for the whites. The brook itself borders one end of the property hence how the property gets his name.
There are a variety of tours and experiences on offer here including wine flights and olive tours and tasting but we opt for the standard wine tasting ($10 per person.) We take a seat on the verandah and our host, Fred takes us through the artisan wines on offer sharing not just his knowledge of the wine but the local area too.
Wine tasting here is a an experience to be savoured and you don't want to be rushed so allow at least an hour and a half so that you can really savour the experience. It's almost impossible to leave empty handed.
Published by
The Annoyed Thyriod
Australia's best winter wines - James Halliday
Whispering Brook Single Vineyard Hunter Valley Shiraz 2017
The demand for our red wines has never been higher.
Hand-picked, cold soak, five-day ferment, basket-pressed to French oak (30% new) for 16 months maturation.
Excellent colour; a virtuoso display of variety, vintage and place - thus a great Hunter shiraz from a great vintage, full-bodied but balanced.
14.5% alc, screwcap. 97 points, drink to 2047.
Wine Companion - James Halliday
Enjoy wine with handcrafted olive oil at Whispering Brook
Things to do in the Hunter Valley: Where to Wine, Dine and Unwind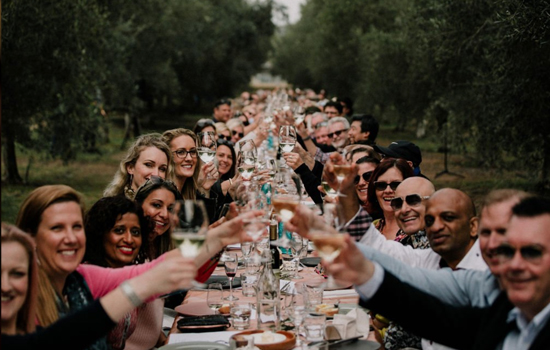 A charming winery and olive grove, Whispering Brook will transport your taste buds to the heart of Greece. Their deliciously unique tasting experience combines handcrafted olive oil together with a selection of their finest vintages. Learn about olive cultivation, harvest, and artisan methods of olive and olive oil production, all the while sipping on some of their signature Hunter blends.
They also run a series of long table lunches nestled in the olive groves. Look forward to a Mediterranean share-style banquet with accompanying Whispering Brook wines, plus guest speakers and live music. 2020's lunch date is yet to be announced, so keep a look out on the website for further updates.
Little gems : Broke Fordwich
Just 10 minutes from the heart of Hunter Valley, Broke Fordwich is one of Australia's oldest winemaking areas. Acclaimed for its premium vineyards, fine dining and outstanding natural beauty, take some time to explore this New South Wales little gem.
Located in a picturesque pocket of Australia's oldest winemaking region, the Hunter Valley, Broke Fordwich is renowned for its family-owned and run boutique wineries that offer a variety of award-winning wines. The Broke Fordwich Wine Trail will invigorate all your senses – each cellar door is nestled in a valley of incomparable beauty and majestic landscapes.
Whispering Brook takes its name from the Wollombi Brook that borders the property, discoverable via the vineyard and olive grove walking tours offered at the winery's cellar door. Linger with artisan wine on the veranda, enjoy a light lunch, or participate in an educational tasting to find out the secrets of the makers.
Winemakers: Susan Frazier and Adam Bell
Key varieties: Shiraz, Touriga Nacional, Semillon, Chardonnay, Tinta Cao, Sousao
Flagship wines: Whispering Brook Single Vineyard & Basket Press wines
James Halliday names Whispering Brook as a 5-star winery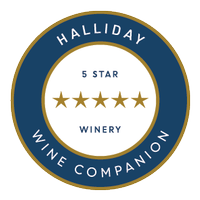 See the beauty, experience the life, taste the wine. The subtle difference of artisan in every aspect. Whispering Brook is committed to making wines of distinction that have a sense of time and place. We are honoured to be recognised for this commitment.
We are thrilled to announce that Whispering Brook has received the highly coveted honour of 5-star winery status again in the 2019 James Halliday Wine Companion.
NSW – Hunter Valley – Hunter rewards adventurous visitors
The Hunter Valley has several wineries that should be on any visitor's "must do" list: Tyrrell's, McWilliam's Mount Pleasant and Drayton's are old-established family companies while Brokenwood and Hungerford Hill are more modern icons, both celebrating their 40th birthdays in 2010.
But for those who are making return visits to the region, it pays to visit some of the Hunter's roads less travelled, where you find boutique wineries and a peace and quiet that's hard to locate in and around the busy Pokolbin region.
This itinerary takes in two of the Hunter's less visited regions; Broke and Mount View, where the winery experience is usually a far more personal one.
Both may be less than a 15-minute drive from Pokolbin, but offer a charming and less commercial experience.
Whispering Brook is a family-owned boutique vineyard and olive grove that produces a range of well-made wines. The cellar door has sweeping verandas and terrific views and there is also on-site guesthouse perfect for those who enjoy being off the beaten track. Cheese and antipasto platters are available at cellar door.
You must taste: The semillon and the rose are both appealing.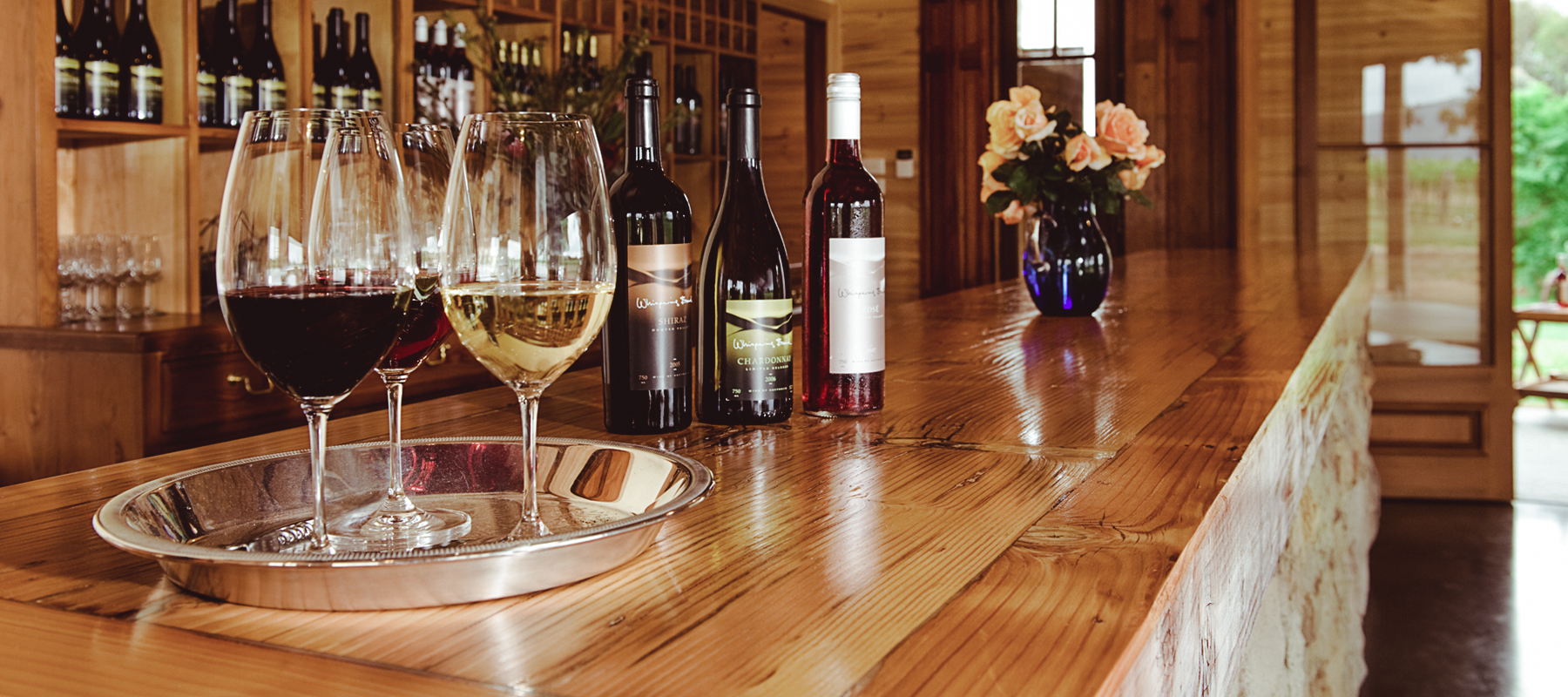 Small producer Colvin a big success at Hunter wine show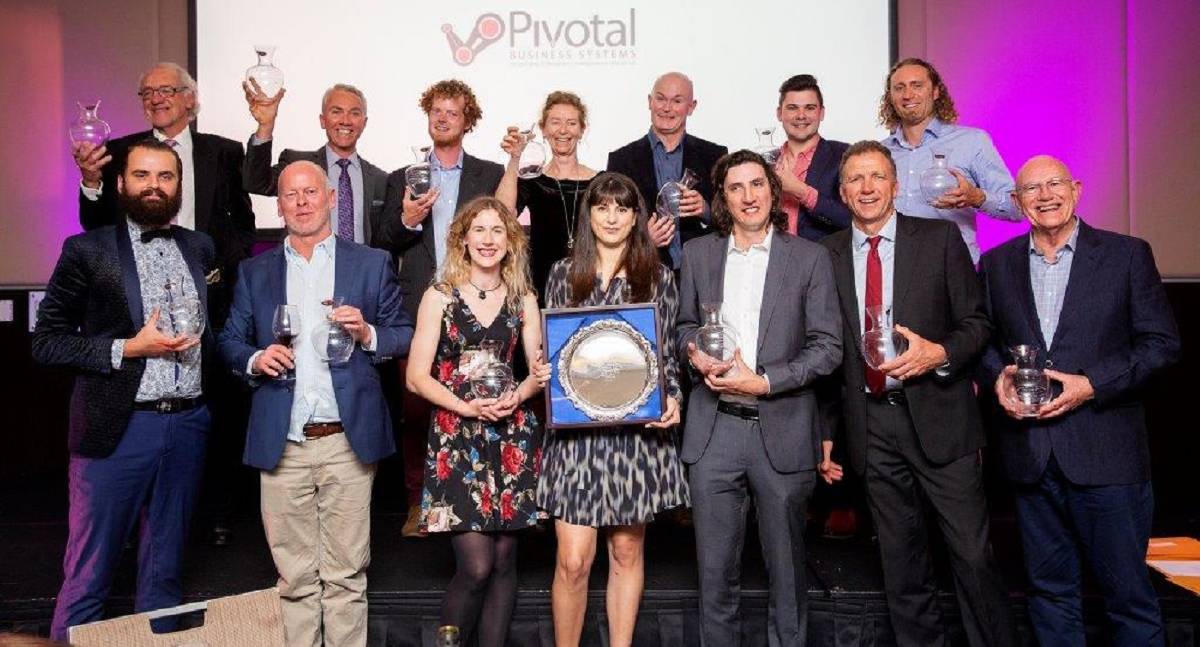 2018 Hunter Valley Boutique Wine Show trophy winners celebrate. Photo: Kathleen Mackay photography
ONE of the Hunter's smallest producers, Colvin vineyard in Ekerts Rd, Pokolbin, last week made a great big impact at the 2018 Hunter Valley Boutique Wine Show at Maitland.
With 6ha of vines and sales of up to 2500 cases a year, the Colvin brand won three trophies, including best white of the show and three gold medals.
It was a haul bettered only by ace winemaker Andrew Thomas, with five gold medals and four trophies, three of which went to his 2017 Elenay Shiraz, judged the show's best red, the best 2017 shiraz and winning the Dr Ray Healey Trophy awarded by the now-retired veteran show judge.
The show attracted 298 entries from 49 producers and was judged by a panel headed by winemaker Keith Tulloch.
Show awards were presented last Thursday night at a dinner attended by 146 guests at Crown Plaza Hunter Valley.
All the winning Colvin wines, the $45 Colvin 2009 Semillon (best white of show and best open vintage semillon), $30 Colvin 2017 Semillon (best 2017 semillon trophy) and $60 Colvin 2014 Sangiovese (open vintage other red varieties gold), are available on colvinwines.com.au.
The vineyard was established in 1967 by a group that included Frank Margan, a pioneer wine writer and restaurateur and father of top vigneron Andrew Margan. It has been owned since 1993 and upgraded by Sydney lawyer and formerCEO of the Institute of Company Directors John Colvin and his wife Robyn.
The vineyard is managed by Tyrrell's, which uses the grapes in its own brands. The expert hands of Andrew Spinaze and Mark Richardson, make the Colvin wines at Tyrrell's winery.
John Colvin is the brother of high-profile Sydney PR consultant Deeta Colvin, who owns the De Beyers Rd, Pokolbin, Mistress vineyard with her husband lawyer, businessman and 2000 Sydney Olympics bid chief Rod McGeoch.
The Thomas 2016 Elenay Shiraz, which is sells at $55 a bottle atthomaswines.com.au and the Mistletoe Lane, Pokolbin, cellar door, won the best 2016 shiraz trophy.
The triple-trophy 2017 Elenay scored a 97-point gold medal in the 2017 shiraz class and the Thomas 2017 Belford Shiraz and 2017 Dam Block Shiraz also won gold in the same class, but the three won't be released until May 2019.
Andrew's fifth gold medal came in the open vintage semillon class with the 2013 Cellar Reserve Braemore Semillon, not being released until next September.
Tranquil Vale vineyard won two trophies with its $27 2018 Semillon, taking the best 2018 semillon and Stockhausen Trophy awarded by Hunter legend and show judge Karl. It's at tranquilvale.com.au and the Pywells Rd, Luskintyre, cellar door.
Founded in 1997 by Phil and Lucy Griffiths, the 8ha Tranquil Vale vineyard and accommodation is run by their budding winemaker daughter Connie and husband Randeep.
Husband and wife winemaking team Susan Frazier and Adam Bell brought an interesting new aspect to the prize list when their $45 Whispering Brook 2017 Basket Pressed Touriga Nacional won the trophy for the best open vintage other red varietal. Susan and Adam took a shine to the Portuguese variety during a visit to Portugal and on their return grafted touriga nacional cuttings onto some of the shiraz vines in their 7.5ha Broke vineyard. The trophy-winning wine is available on whisperingbrook.com and the 165 Rodd St, Broke, cellar door.
Two other husband and wife teams, Denman-based Brett and Linda Keeping, and Hart and Hunter winemakers Damien Stevens and Jodie Belleville, were among the major show winners.
The Keepings continued their run of show successes with a Hunter Boutique trophy and two gold medals for the $26 Two Rivers 2017 Vigneron's Reserve Chardonnay (best 2017 chardonnay and 96-point gold) and $20 2017 Stones Throw Semillon (2017 semillon gold medal) both on tworivers.com.au and at the Yarrawa Rd, Denman cellar door.
Jodie and Damien claimed two trophies and two gold medals with their $30 Hart and Hunter 2017 Oakey Creek Semillon (best 2017 semillon) and $35 2017 Black Series Shiraz-Pinot Noir (best open vintage red blend), both of which areat the 463 Deasys Rd, Pokolbin, cellar door and on hartandhunter.com.au
The Newcastle Herald | By John Lewis
Trophy for a Portuguese varietal - Whispering Brook's 2014, 2017 & 2019 Touriga National
The best vintage in living memory in the Hunter Valley has produced a trophy for Whispering Brook's 2014 Touriga Nacional at the Hunter Valley Boutique Wine Show. This has just been followed up with another trophy for the stella 2017 Touriga Nacional. It may even eclipse the 2014 vintage!
The wine is the result of a trip to Portugal in 2007 by Whispering Brook's owners and winemakers, Susan Frazier and Adam Bell. Through a winemaking friend based there, Susan and Adam spent a number of weeks visiting wineries across Portugal, where they fell in love with the variety Touriga Nacional. They believed that climatically, it showed real potential in the Hunter Valley given the similarities particularly with the area around Alentejo in the south central area of Portugal.
After sourcing appropriate Touriga Nacional cuttings in Australia, Susan and Adam grafted over a block of their Shiraz to Touriga Nacional at Whispering Brook in 2008.
Whispering Brook's first vintage of Touriga Nacional was in 2011. The 2014 Touriga Nacional is comprised of 100% estate grown Touriga Nacional. The owners believe that Touriga Nacional has a great future in the Hunter Valley. It has much of the varietal characters which they tasted and loved in the Portuguese examples of Touriga Nacional, but with a Hunter twist.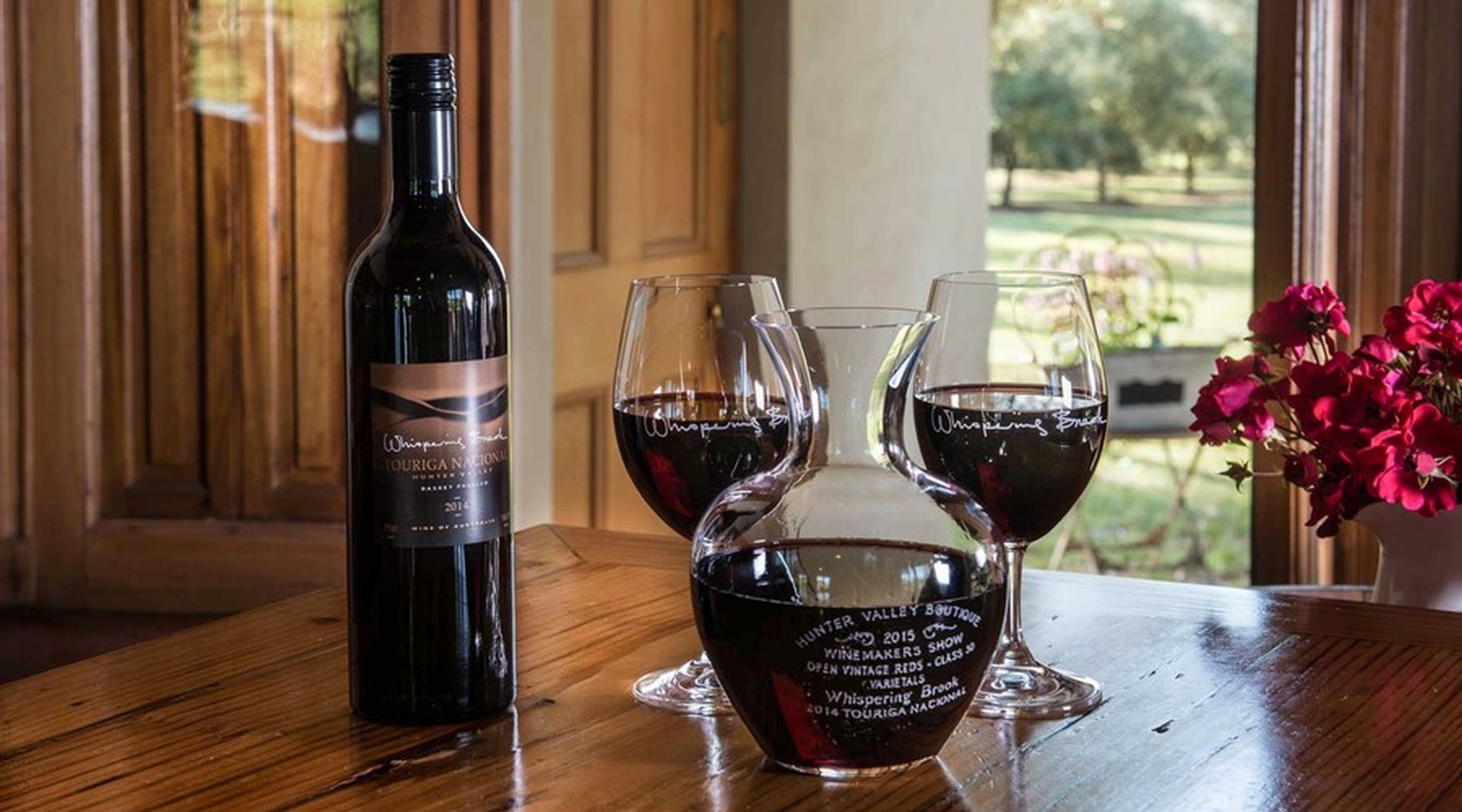 Meet the Winemaker
Celebrated wine journalist, TV personality and wine educator Debra Meiburg MW chats to Susan about living the dream as a country-born girl, who pursued a career in FMCG and finance in the city, then returned to her roots in agriculture and got into the wine business. They discuss the best part of winemaking,
Whispering Brook`s "handmade" policy to ensure the very best quality grapes, hosting cellar door visitors (and all their interesting questions!), the best part about Susan`s job and more.